Understanding Chronic Graft Versus Host Disease
When you have been diagnosed with chronic graft versus host disease (cGVHD), it's normal to feel overwhelmed emotionally and physically. Each cGVHD journey is different, so learning about why your body is reacting the way it is can help you feel more at ease. By focusing on what you can control, you and your caregiver can better manage your symptoms.
Graft versus host disease is a common complication after receiving a donor stem-cell or bone marrow transplantation. Sometimes, the graft doesn't recognize the host as being friendly. In fact, it sees your body as a "threat."1
There are two kinds of GVHD that may develop1,2:
Acute (typically happens earlier after transplant)
Chronic (typically occurs later after transplant)
These two forms of GVHD differ in symptoms and treatment.
Chronic GVHD affects one or more organ systems, and it can continue over a long period of time.
When your immune system is working normally, it helps to defend your body against harmful invaders like viruses or bacteria. This helps you stay healthy. But in cGVHD, the donor cells (graft) see your body as the threat, so they begin to attack and they recruit your immune system to help in the fight.1,3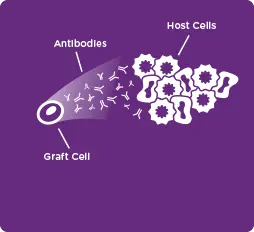 In cGVHD, the graft (transplant)
cells attack the host (your body)
cells using the immune system1
References: 1.  Leukemia & Lymphoma Society. Graft-versus-host disease. Accessed August 23, 2022. https://www.lls.org/sites/default/files/2022-01/FS32_GVHD_FS_rev_12_21.pdf 2. Jagasia MH, Greinix HT, Arora M, et al. National Institutes of Health consensus development project on criteria for clinical trials in chronic graft-versus-host disease: I. The 2014 diagnosis and staging working group report. Biol Blood Marrow Transplant. https://doi.org/10.1016/j.bbmt.2014.12.001. 3. Choi SW, Levine JE, Ferrara JL. Pathogenesis and management of graft versus host disease. Immunol Allergy Clin North Am. 2010;30(1):75-101.